My
Romanian Pie Rack
is back to its beautiful display of blue & white...some dishes I've had forever...some are new to our home...
The pie rack was decked out in pinks and reds for Valentine's. The gold fruit plates were my mom's (I think my grandmother gave them to her).
The pedestal bowl is handmade from a local pottery class/shop. The artist used a doily to make the design on top. It reminded me of all my Romanian lace, so I snatched it up at a festival here a few years ago. My MIL made this doily too!
A closer look at some of my dishes and stemware.
A Romanian demitasse set...when I lived there, a friend's mom gave this to me out of her China cabinet. My MIL made the lace doily underneath.
My mom bought me the sweet little butter dish in Italy. She always looks for blue & white on her trips! It's tucked in between my Johnson Brothers Indies Blue. I had to use two Mexican cobalt platters behind them because these plate holders are rather deep...I've had them since I was in college!
The plates in the background, along with the two mugs are Romanian rustic pottery. My SIL bought the little plates and cups for me a couple years ago. I bought the larger plate on our last trip there for our first born son to meet his paternal grandparents. My MIL also made this lace doily.
I'm linking up with Smiling Sally for Blue Monday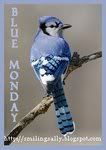 and
Susan from